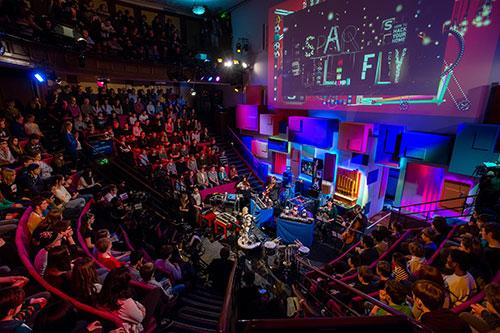 City's Department of Computer Science has played a prominent role in the 2014 Royal Institution (RI) Christmas Lectures, which were presented by Professor Danielle George, with the theme, 'Sparks Will Fly'. The RI Christmas Lecture Series, regarded as an annual highlight for a science event addressed to young people, is a series of talks on a single topic.
The Music Informatics Research Group team, comprising Andrew Lambert, Dr Daniel Wolff and team leader Dr Tilmann Weyde, collaborated with robotics and engineering experts from universities across the UK to present a mixed robot and human orchestra performance. They filled the role of the conductor by providing the central robot orchestra control in an exciting musical and technological performance. This will be broadcast on BBC Four on 31st December at 8pm. The lectures will be broadcast on BBC Four at 8pm on December 29th, 30th and 31st.
For more information on the involvement of City's Computer Science Department to the RI Lectures, click here.